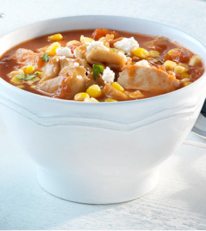 Try this easy, fast, and delicious Mexican soup! Its loaded in protein and fiber, low in sugar, and only 500 mg sodium per serving (normally soup is usually triple). Enjoy:)

Serves: 4
Hands-on Time: 20 minutes
Total Time: 20 minutes

Ingredients:
1 14 1/2 oz BPA-free can unsalted diced tomatoes

4 cups low-sodium chicken broth

1 9 oz package fresh whole-wheat cheese tortellini

3/4 lb boneless,skinless chicken breasts, thinly sliced

1 1/2 cups frozen corn kernels

Juice of 1 lime

1/2 cup fresh cilantro (leaves and thin stems), chopped

1/2 tsp fresh ground black pepper

2 oz queso fresco cheese
Instructions:
ONE: To a large saucepan, add tomatoes and broth; cover and bring to a boil.  Add tortellini and return to a boil.  Reduce heat to medium-high, cover and cook for 5 minutes, stirring occasionally.  To saucepan, add chicken and return to a boil.  Cover and simmer until chicken is cooked through, about 3 minutes, stirring occasionally.
TWO: Add corn and stir until heated through, about 30 seconds.  Remove from heat and stir in lime juice, cilantro and pepper.  Divide among serving bowls and crumble cheese even over top.
Nutrients Per Serving (1 3/4 cup):
460 Calories; 14 g fat; 5 g sat fat; 2 g monounsaturated fat; 1 g polyunsaturated fat;
45 g carbs; 7 g fiber; 8 g sugar; 38.5 g protein, 519 mg sodium, 111 mg cholesterol
Estelle L. Benoit, RDN, LDN