Here is an easy recipe from Clean Eating Magazine that is high in fiber and protein.  A delicious and great way to start off your day:)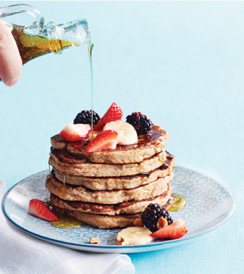 Serves: 6
Hands-on Time: 30 minutes
Total Time: 30 minutes
INGREDIENTS:
• 1½ cups almond flour
• 5 tbsp coconut flour
• 1 tsp ground cinnamon
• ½ tsp each sea salt and baking soda
• 2 large eggs + 2 large egg whites
• 1 cup mashed ripe banana (about 2 bananas)
• 1-1/4 cups plain unsweetened almond milk
• 1 tsp pure vanilla extract
• 6 tbsp chopped toasted unsalted walnuts
INSTRUCTIONS:
1. In a large bowl, whisk together almond flour, coconut flour, cinnamon, salt and baking soda. In a separate bowl, whisk together eggs, egg whites, banana, milk and vanilla; add to flour mixture and stir to combine.
2. Mist a large nonstick skillet with cooking spray and heat on medium. Drop ¼ cup batter into skillet; spread out to a 3½- to 4-inch round. Repeat 2 to 3 times to fill skillet.
3. Reduce heat to medium-low; cook until bottoms are golden brown, about 2 minutes. Carefully flip pancakes; cook until golden brown, 1 to 2 minutes more. Transfer to a large plate; mist skillet again with cooking spray and repeat with remaining batter, reducing heat as necessary if pancakes brown too quickly. Let cool completely; wrap in plastic wrap between pieces of parchment paper and refrigerate for 3 to 4 days (or freeze between pieces of parchment paper).
4. To reheat, heat a large nonstick skillet on medium; add pancakes (thawed if frozen) and cook, turning once until
warmed through, about 2 minutes. Sprinkle servings with walnuts.
PER SERVING (2 pancakes and 1 tbsp walnuts): Calories: 318, Total Fat: 22 g, Sat. Fat: 3 g, Monounsaturated Fat: 11 g, Polyunsaturated
Fat: 7.5 g, Carbs: 21 g, Fiber: 8 g, Sugars: 7 g, Protein: 12 g, Sodium: 360 mg,
Cholesterol: 62 mg
Estelle L. Benoit, RD, LDN
Clean Eating January/February 2017