The 2017 NPC Louisiana Sate Bodybuilding, Physique, Figure and Bikini Championships will be held Saturday July 8th at the Heymann Performing Arts Center here in Lafayette.   Prejudging is set for 9am to 11:30am and doors open for the Finals at 5pm with the show to begin at 6pm.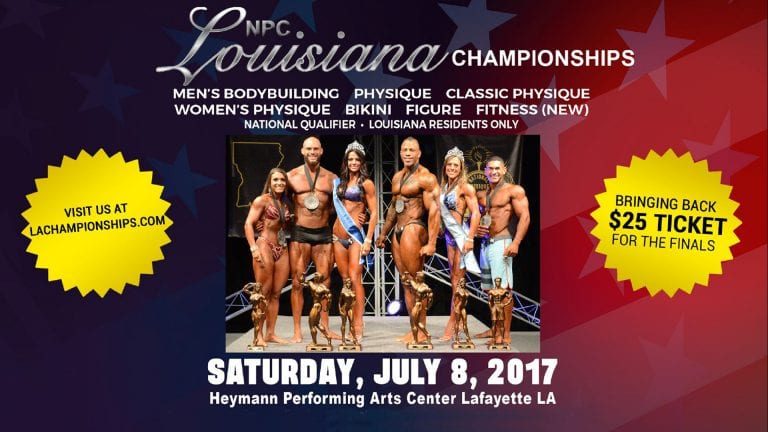 Men's divisions will include Men's Bodybuilding, Physique and the new men's division Classic Physique. Women's divisions will include Women's Physique, Figure, Bikini and new and back to the line-up of competition is Women's Fitness division. Women's Fitness has 2 rounds of judging…….Swimsuit and Fitness routine. Competitors must be a resident of Louisiana at 16 years or older to compete.
Tickets can be purchased at the door all day Saturday at the Heymann box office or in advance at any TICKETMASTER outlet in person or by phone or internet. This year we are bringing back the $25 ticket for the Finals. Tickets prices for the Finals start at $25, $35, $45 for best seats. Get you tickets in advance or early that day at the box office if possible. Tickets for prejudging are General Admission $25 at the door or in advance as well.
For more information or official entry form visit the event website at www.LaChampionships.com. You may also contact Tommy Guarisco of Magnum Productions at 985/868-3936 or by email at fitshow@bellsouth.net The event is sanction by the National Physique Committee(NPC). For rules and regulations visit www.npcnewsonline.com